16 February 2017
Bladder Cancer (BLC) is proud to announce the launch of the Bladder Cancer Funding Analyzer (BCFA) on the BLC website. It is a free service that is part of a new suite of online features that have been designed to serve the needs of the bladder cancer research community.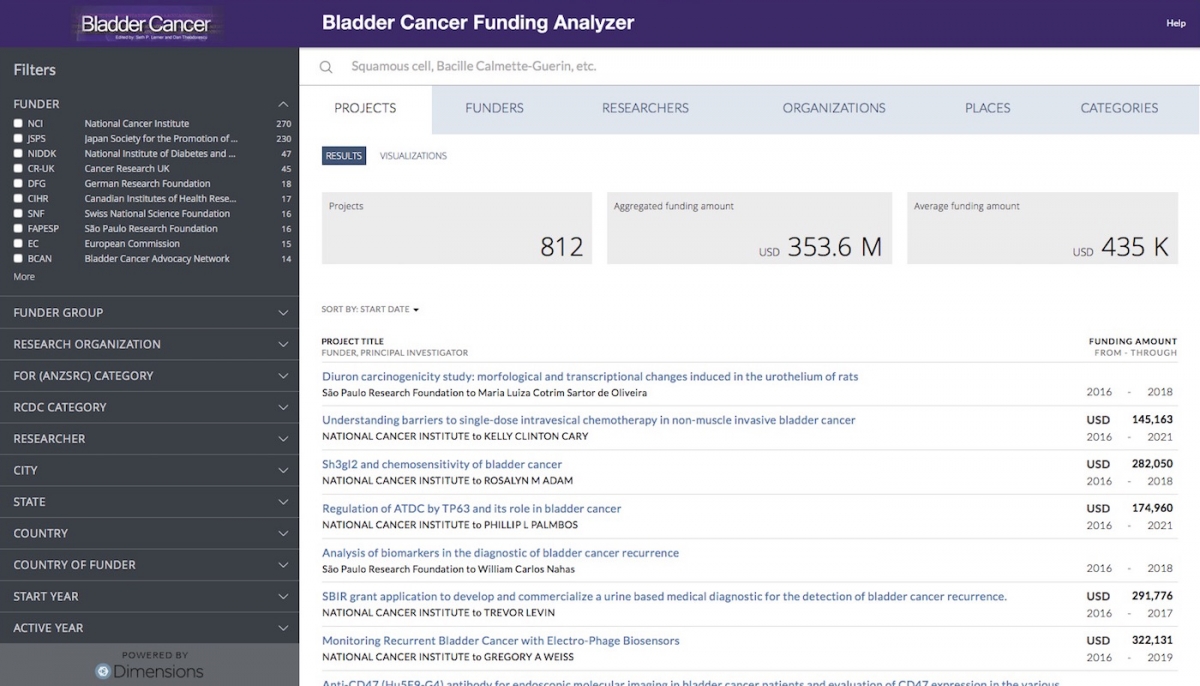 Caption: BLC's Bladder Cancer Funding Analyzer
BCFA presents in-depth data on more than fifty funders from over twenty countries including the United States, all of the European Union, the United Kingdom, Canada and Japan. It allows users to easily locate funding related to bladder cancer and analyze funding streams and trends. Further, it facilitates a better understanding of research organizations' funding portfolios and the funding patterns of specific funders, both of which are critical when developing grant applications.
"This is a unique and remarkable tool that will be very valuable to everyone doing bladder cancer research," explained BLC's Editors-in-Chief Seth P. Lerner, MD, and Dan Theodorescu, MD, PhD. "It is becoming increasingly important to know more about the funding landscape and about who is working on what project so effective collaborations can be sought out."
Built by ÜberResearch, a solutions and services company focused on the needs of science funders, BCFA includes all funding related to bladder cancer drawn from ÜberResearch's extensive grant database of more than $1.1 trillion of funded research, representing over 3.4 million projects from 258 different funders like the National Institutes of Health and the National Science Foundation in the U.S. and the Wellcome Trust and U.K. Research Councils in the U.K.
Users can conduct line-of-investigation queries (e.g., epithelial-mesenchymal transition, gemcitabine-cisplatin therapy, urinary diversion) to look for funding trends and to see which investigators in which countries have been the most successful in obtaining funding in a given area of bladder cancer research. New funding information will be added to BCFA on an ongoing basis.
"We invite all bladder cancer researchers to access this valuable service at www.bladdercancerjournal.com/funding, which we are pleased to make available at no charge," added Dr. Lerner and Dr. Theodorescu.
#  #  #
NOTES FOR EDITORS
ABOUT BLADDER CANCER
Bladder Cancer is an international multidisciplinary journal to facilitate progress in understanding the epidemiology/etiology, genetics, molecular correlates, pathogenesis, pharmacology, ethics, patient advocacy and survivorship, diagnosis and treatment of tumors of the bladder and upper urinary tract. The journal is dedicated to providing an open forum for original research in basic science, translational research, and clinical medicine that will expedite our fundamental understanding and improve treatment of tumors of the bladder and upper urinary tract. www.bladdercancerjournal.com
ABOUT IOS PRESS
Commencing its publishing activities in 1987, IOS Press is headquartered in Amsterdam with satellite offices in the USA, Germany, India, and China and serves the information needs of scientific and medical communities worldwide. IOS Press now publishes over 100 international journals and about 75 book titles each year on subjects ranging from computer sciences and mathematics to medicine and the natural sciences. www.iospress.com
ABOUT ÜBERRESEARCH
ÜberResearch is a leading provider of software solutions focused on helping funding organizations, non-profits and governmental institutions make more informed decisions about science funding. The company's cloud-based platform provides better views of an organization's grant data, peer organization activities, and the data of the funding community at large. The software functions span search and duplication detection to robust tools for reviewer identification and portfolio analysis.
ÜberResearch is a global business with main offices in Cologne, Germany; London, United Kingdom; Washington DC and Columbia, USA, and other European and US locations. ÜberResearch is a portfolio company of Digital Science. For more information, visit: www.uberresearch.com and follow @uberresearch on Twitter.